Selamat pagi, kembali lagi di postingan Wishfull Wednesday ^^
Buku yang menjadi inceranku kali ini adalah beberapa buku (ada 4 buku) yang diterbitkan melalui self publising, dan itu pun nggak terbit di Indonesia (T_T)
Jerk. He is a JERK.
But Sara needs his services. If not for her stupid bestfriend who stupidly opened her big mouth during their conference meeting, she won't be in this stupid situation. She has to find a boyfriend whom she can introduce to her officemates and to her drinking buddy-slash-long time crush Adrian Lee on the Annual Company Acquaintance Party.
Unfortunately, the one sent by Rent-A-Boyfriend is an insufferable human being named Gio who finds new and improved ways in annoying the living crap out of her.
Here's a bigger problem though - she has rented a mobster boss as her boyfriend, G the Reaper.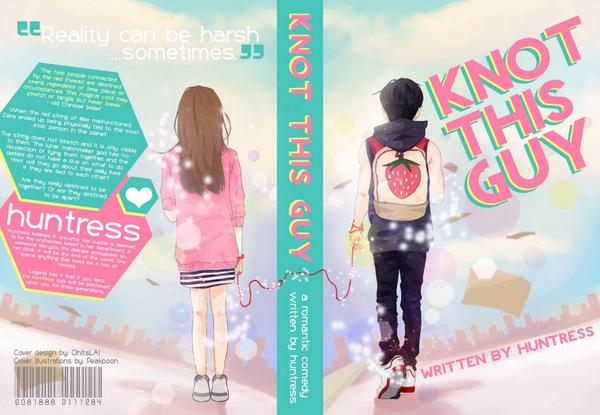 When the red string of fate malfunctioned, Dara and Jiyong are in for a big surprise. Will destiny still be fulfilled?
"The two people connected by the red thread are destined lovers, regardless of time, place, or circumstances. This magical cord may stretch or tangle, but never break." - old Chinese belief
Dara's school, Bridge Rose University, was recently closed due to some stupid reason and the students had no choice but to transfer to the nearest university in the area – International School of Arts and Technology or InterSAT.
'That school is exciting', they said. 'Every single day in InterSAT is unpredictable', they said.
How can it not be exciting and unpredictable? InterSAT is infested by notorious gangs! It will take a lot of kung fu for a tiny woman like her to survive a day in that school. But Dara does not need kung fu; because the strongest gangster of InterSAT is her sworn protector.
With a mixture of gangster badassery and lollipop cuteness, Dara's new school year has begun.

***


Keempat buku tersebut merupakan karangan dari
huntress2021
,
seorang penulis fanfiksi dari Filipina. Keempat buku tersebut merupakan fanfiksi dengan pairing G-Dragon x Sandara Park yang telah di
posting
di
asianfanfics.com
dan sudah tamat, kemudian di dipost ulang di situs
wattpad.com
(kalo di sini ceritanya masih
ongoing
karena huntress mengedit ulang naskah agar lebih rapi).
Walaupun aku sudah membaca dan mengetahui jalan ceritanya, aku tetep ingin memiliki keempat buku tersebut (terutama pengen mengendus bau bukunya sih XD). Tapi kalau mengingat harga satu buku kurang lebih sekitar 750 pesso (Rp 211.790,18 per 22 Februari 2016) rasanya mau nangis (TT_TT). Dan itu belum termasuk harga
shipping
dan cukainya.
Sebenarnya, beberapa bulan yang lalu sempat ada fans dari Indonesia yang mau membantu untuk beli barengan (biar lebih irit ongkosnya). TAPI!! Kalo inget harga satu buku yang lebih dari 200ribu untuk buku setebal 300an halaman itu rasanya jadi pengen banting gunung (siapa tahu keluar emasnya -__-)
Aku harap sih semoga ada penerbit dari Indonesia yang mau menerjemahkan keempat bukunya—atau setidaknya untuk
Mobster For Rent
. Karena denger-denger dulu sempat ada tawaran dan rencana mau difilmkan, tapi entah kelanjutannya bagaimana.
Share Wishful Wednesday mu juga ya!
Silakan follow

blog

Books To Share – atau tambahkan di blogroll/link blogmu =)
Buat posting mengenai buku-buku (boleh lebih dari 1) atau segala hal yang berhubungan dengan kebutuhan bookish kalian, yang jadi inceran kalian minggu ini, mulai dari yang bakal segera dibeli, sampai yang paling mustahil dan hanya sebatas mimpi. Oya, sertakan juga alasan kenapa buku/benda itu masuk dalam wishlist kalian ya!
Tinggalkan

link

postingan

Wishful Wednesday

kalian di Mr. Linky (klik saja tombol Mr. Linky di bagian bawah post). Kalau mau, silakan tambahkan button Wishful Wednesday di posting kalian.
Mari saling berkunjung ke sesama blogger yang sudah ikut share wishlistnya di hari Rabu =)